Driveway Designs to Complement Your Home
Some people would only care about the architecture of their home not knowing that their driveway design also contributes to the impression their neighbours, visitors and passer-bys have of your property. It's a little off-putting to see a nice looking house with a cheap or poorly finished driveway. The house exterior and the driveway design don't always have to match to look great and be impressive. Even if you do not have a mansion, you could still make your place look great by choosing the the right driveway design that will complement your style as well as your budget.
Simple Permeable Brick Driveway Designs
Brick driveway designs have been around for many years and are still popular. This pavement design will work for your home, whether you're residing in suburban or more rural areas. It is considered as the most environmentally friendly pavement driveway design. It allows the water to pass through the permeable pores of the concrete, and grouting, and be absorbed directly by the deep set soil. Instead of letting the rainwater go down the stormwater drains, it is being recycled into the local environment. It also prevents soil erosion, flooding and stormwater runoff.
This type of driveway can be installed in a limited driveway space and is less expensive than solid concrete. Repair and maintenance is as easy as buying a few bricks for the damaged part and there's no need to replace the whole driveway. You may also put some landscaping patterns and planters alongside the driveway to make it more appealing to the eye.
The downside is that there's more ongoing maintenance. You'll often have weeds and grass growing up between the cracks of the pavers. If you want a no-fuss alternative, consider the following options.
Concrete-Paver Driveway Designs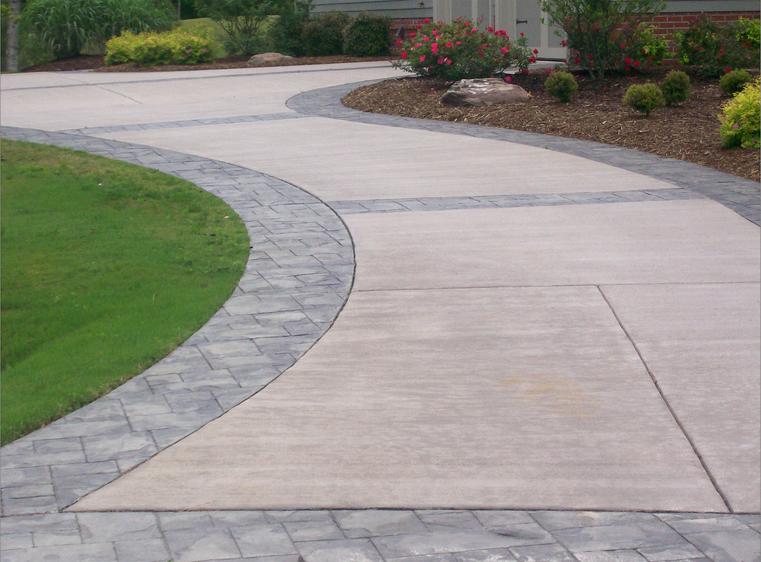 This kind of driveway is a crowd pleaser, especially if you get the right colour combination for your property. This mixture of paver and concrete driveway looks simple yet elegant. Because it is made up of concrete, it will take 30 to 35 years before the driveway gets worn. It's durable and easy to maintain. The concrete delivers a rough finish, thus making it slip resistant. Moreover, pavers on this driveway are not affected by salts or other de-icing materials and can last long together with the concrete poured pavement. For a more contemporary look, light up the driveway with some surface ground lights and will surely give you a more romantic feel.
While concrete driveways look great and are hard wearing, you should consider the environmental impact of concrete production (high CO2 emissions) and also the cost. An exposed aggregate driveway is probably your best bet for getting a high quality finish, in the colour you want, and it won't come cheap (Often 30-50% more expensive than a gorgeous asphalt driveway).
Circular Driveway Designs
Give your home a classic, sophisticated look by installing a circular driveway made up of concrete pavers. It is very accessible to drivers and is perfect for properties located on busy main roads where reversing into traffic is dangerous. Unfortunately, you'll need quite a large area, and while it looks grand, it's not always the best use of space. It doesn't need to be luxurious, you can even just create a semi-circle by adding a second driveway to your property, but you will still need a large space for the curve to suffice a vehicle's turning radius. Because the driveway is circular, it's easy to put on a landscaped centrepiece or an amazing large fountain.
Circular driveways can be finished in both concrete and asphalt but we find that most prefer asphalt because it doesn't require the less attractive seams that are needed in concrete.
Coloured Gravel Asphalt Driveway Designs
If you have a long driveway towards your home and you want to imply a strong, crisp texture, why not consider an asphalt driveway design with coloured gravel as an accent.
Asphalt driveways have a lot of advantages in terms of cost, durability, maintenance and weather resistance. It costs at least 30% less than having a full concrete-poured driveway and is quicker to install due to not needing the intricate steel reinforcing that concrete does. With its smooth black finish, it will always look new, clean and sturdy. When installed properly, asphalt pavements can last 20 to 25 years with minimal maintenance. For cracks and holes, you will only need to put a sealant in between cracks and fill in the holes if there are any (a low cost service that we offer). Coloured gravels will contrast the dark colour of the asphalt and it will bring a vibrant modern look to your yard.
Driveway designs are not solely a piece of aesthetic feature, but it should also have full functionality and ease of vehicular access. Driveways do not have to be boring or plain grey concrete. Play a bit with the colours, stones and landscaping and it will add a striking impression to your home.
Want to know more or are ready for a free quote? Why not give Chris a call on 0425 759 358 or use our contact form.