5 Driveway Edging Designs
There is a large collection of driveway edging designs on the internet and it's easy to waste time browsing them one by one. To help you narrow your search, here are the most popular driveway edging designs that you may use as inspiration for your new driveway.
1. Solar Light Edged Driveway
First on up is a Solar Light Edged Driveway. The idea is to outline your driveway with dimmed lights to make it look more attractive and alluring at night. Electric ground lights may heighten up your electric bill, but try to invest in solar lights that automatically charge during the day and light your way home during the night.
2. Key Kerb Edged Driveway
Add a subtle maze effect on your driveway with perfect bull-nosed key kerbs. It gives a strong and classy finish on your driveway. This together with a well grown Bermuda would create a castle-like effect towards your home. A key kerb also serve as a boundary between the driveway and your garden. It protects the plants as well as the grass from being run over by vehicles.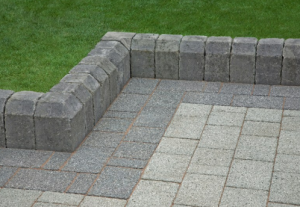 3. Patterned Edge Border
A patterned edge, made up of contrasting colours, will give a remarkable statement on your driveway. The warm colors of the brick pavers would highlight your driveway as well as the path to walk by. The pattern implies a contemporary look and never goes out of style.
4. Cobble Stone Edging
Though old and rusty to look at, this triple stone edging style complements the look of the tar and chip driveway. It blends with the colour of the pavement, but clearly provides a path to walk upon. Cobblestone edges are durable and can withstand varying temperatures. They also come with different colours to choose from and this can add on to the excitement of designing your own driveway edge.
5. River Rock Edged Pathway
While concrete pavers create a modern look, a pathway edged with river rocks delivers a more natural and environmentally friendly looking pathway.  This often works well with an asphalt driveway and the lively colour of the rocks gives contrast to the black, plain asphalt. River rocks are also easy to acquire. You can actually have fun with your kids collecting river rocks during a picnic or family outing.
Designing your driveway is a fun filled activity that you and your family can enjoy. Whichever pattern or design you prefer for your driveway, make sure to choose the one that feels right for you. A small investment in some feature edging for your driveway can really dress up your home. The proposed edging designs are just patterns and inspirations so that you will be able to come up with an idea that's unique, edgy and budget friendly.