Environmentally Friendly Asphalt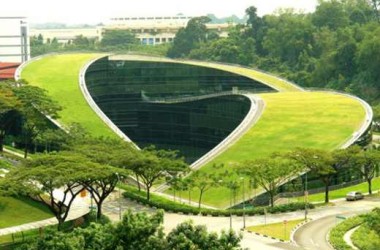 Asphalt is used for paving roads, parking lots and for roofing. It consists of gravel, sand or stone that is bound together by cement made from crude oil. Petroleum hydrocarbons in the crude oil form a gas that condenses into fine particles as it cools, creating a vapor. The vapor contains poisonous fumes like carbon monoxide, nitrogen oxides, sulfur, volatile organic compounds, polycyclic aromatic and hydrocarbons. The concentration of these vapors is very high in and near the asphalt plants and it can pose certain health risks to people working at the plant or people living nearby.
Most of the threats posed by asphalt plants have been neutralised due to the EPA's New Source Performance Standards, which went into effect in 1973. These performance standards must be followed by hot mix asphalt producers in order to prevent the release of dust and smoke in the air by installing control systems.  A facility must also meet strict "visible emissions" tests in order to comply with regulations. EPA now acknowledges that HMA facilities are not a major source of emissions. Asphalt roads and pavements are so common and are found everywhere we go. Therefore, making them environmental friendly by using any modifications that boost its recycled content, lengthen its life, or cut the energy needed to manufacture it still has a huge potential to make a huge impact overall and gain benefits.
Research is being done all over the world in order to find ways in which Asphalt can be made more eco-friendly. One of those researches is the Asphalt Research Consortium. A lot of institutions are taking part in it and $5 million dollars in funding are being spent to study new methods and technologies. One of the ways identified in which the currently used asphalt can be made eco-friendly is using cold-mix asphalt rather than hot mix asphalt. This method has been used in developing countries and places like India and Africa for decades. Research has shown that this method saves up to seven times more energy than its counterpart. In order to create hot mix asphalt, the mixture is heated to temperatures as high as 300 Fahrenheit because the mixture is too thick to be placed on the roads as it is. Such a process requires a lot of energy, which could be used elsewhere.  An alternative method, used in South Africa, is shearing asphalt into fine particles and mixing it with surfactants which keep the asphalt in solution till its laid on roads. Canada's Office of Energy Efficiency and others have found that paving with these cold mixes saves a lot of energy, especially when combined with recycling efforts. These asphalts also cut emissions of carbon dioxide and other gases.
Civil Engineering professor, Hussain Bahia, at the University of Wisconsin and Madison, has spent a lot of time researching in this field. He has come up with various ideas for creating environmental friendly asphalt. His ideas revolve around experimenting with adding materials to cold mixes, such as polymers or plastics, which can make pavements quieter, safer and more durable.
Recently work is being done on making rubberised asphalt. The addition of rubber from scrap tires to the asphalt has a lot of advantages. It requires less maintenance and hence, saves a lot of money. It is a cheaper substitute as the price of asphalt and crude oil products is skyrocketing. It is also easier to melt at lower temperatures compared to hot mix asphalt. Noise pollution is known to cause depression and anxiety in people. Roads made from rubberised asphalt can muffle the noise produced by running tires against the road, making the roads environment friendly.
All these efforts seem quite promising. Our future is in our own hands and therefore, it is our duty to protect our planet. This is why we're committed to using recycled asphalt where possible. It's not always appropriate for your application, but where it is, we'll give you the option. There are a number of reasons why asphalt is a better, safer and a more environmentally friendly alternative to concrete, as we've covered in our other articles.