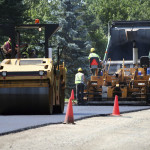 Asphalt Roads
As with car parks, we have a strong history of commercial and Government infrastructure projects. We're continually a go-to supplier due to our focus and commitment to quality and timely delivery. As you can imagine, the Government can't afford to lay unsafe or short lasting roads, that's why they turn to us in. Private roads can be laid with crushed rock or asphalt, and speed humps can be built to your specifications.
Asphalt School Areas
Asphalt is considered ideal for sports surfaces, pathways, court yards due to the high level of grip while still being exceptionally hard wearing and flexible enough to avoid the cracking issues experienced with your typical concrete alternative. The hard wearing nature also stops small rocks working loose, which could potentially become a problem as choking hazard for smaller children.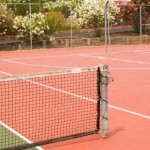 Sports Surfaces
Tennis courts, basketball courts, running tracks and even go-kart tracks, we've laid them all. It takes a strong skill set to ensure that a given sports surface is perfectly flat from one end to the other. We have the necessary experience to deliver that.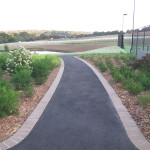 Pathways
Asphalt is great for running pathways in both a residential setting and a public/school area one. It's especially effective for winding over uneven ground, like in public parks, due to the fact it's flexible and doesn't require the steel mesh laying and reinforcement that concrete does. It also doesn't suffer from weeds growing through it, which is common with paving and brick paths.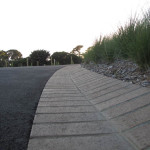 Re-sheeting and Repair Work
There are situations where it is necessary to re-work an existing asphalt surface. This will typically occur when the original asphalter skimped on the materials. We're typically called about twice a week to fix shoddy work laid by our competitors – it's distressing to think that these people paid the first time around and are now having to pay for rectification, which is why we do a great job the first time and then follow it up with our 5 year warranty.
Landscaping and Retaining Walls
While our core service is our asphalting, we're accomplished at landscaping and are often asked to handle entire outdoor areas. We know what visually compliments asphalt and we have all the tools and experience to create stunning outdoor areas.
Landscaping services include:
Retaining walls (sleeper, block, rock and stone)
Paving
Steps
Feature walls
Garden edging
Our
Services
Driveways
Car parks
School grounds
Sports surfaces
Roads & speed humps
"Excellent job! Everything went well, from Chris's quick return phone call, the quotation visit, through to the end result...a quality driveway. Than..."